Carmel and the Gummy Ice Cream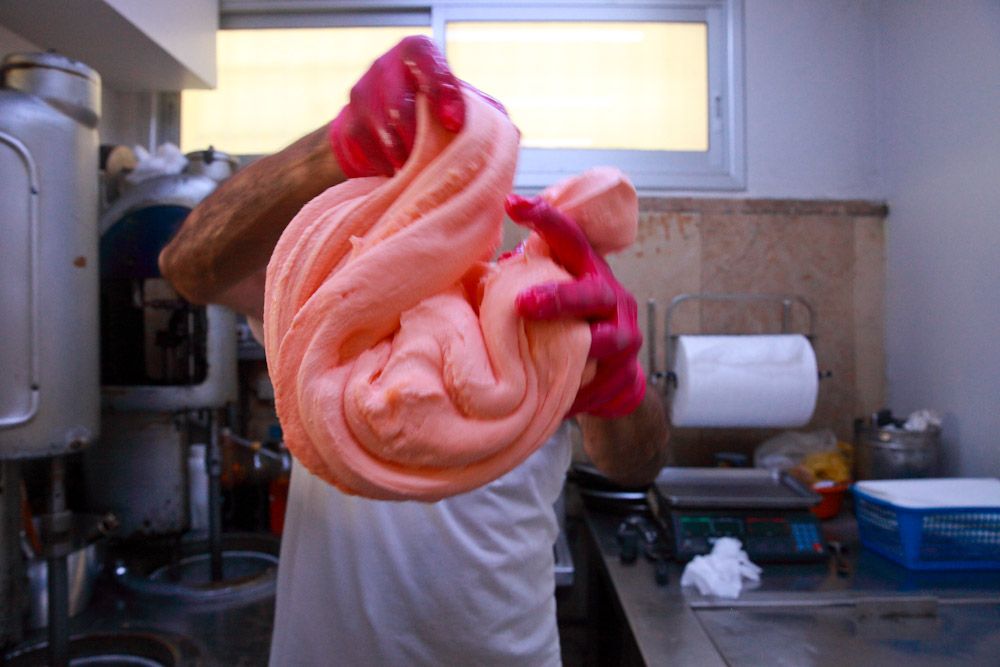 Everyone in town knows the blue building, Michael's Bubblegum Ice Cream. A visitor lured in by the colorful exterior is greeted by an equally vivid variety of flavors, as well as the warm smile of the current owner, Carmel.
Our story starts in 1940, in Baghdad. Carmel's grandfather, Naiem Yehuda owned an ice cream shop on main street, which he ran with his son, Michael (Carmel's father). In those days, their selection was limited, with only five handcrafted flavors - vanilla, chocolate, pistachio, strawberry and apricot; still more than enough to delight customers from throughout the city.
Arabic ice cream is very different from traditional European ice cream, thicker and more elastic. It consists mainly of milk, cream, salep, mastic gum and sugar . Combined, they produce a gummy texture which brings out the luxurious, creamy taste of the ice cream.
Naiem would make a batch every few days, hand-churning the ingredients in a barrel-like contraption packed with ice and coarse salt. The milk came fresh and unpasteurized from local farmers, so Naiem would boil it before use, and that wasn't the extent of his alchemy: during WWII, Baghdad experienced an almost complete sugar shortage, so Naiem would extract syrup from date fruit as a substitute.
In 1951 Naiem moved to Israel with his family. Three years later, his son Michael continued his trade, opening an ice cream shop in haTikvah Market, Tel-Aviv (he would relocate to Ramat Gan in '77). Roaming the bustling market, Michael and Naiem would discover countless ingredients with which they would experiment, concocting many new flavors.
In the 60's, Michael moved away from the old gelatiers' methods, and installed various machines to expedite the process (though some hand-churning is still involved, now using a purpose-built stick). State-of-the-art at the time, these machines have remained in use to this day. With their aid, Carmel now makes over 100 flavors of ice cream, a far cry from the store's humble beginnings.
Although the process had changed, the tradition endured, passed on from Naiem to Michael, and then from Michael to Carmel, who started helping his father around age ten, before he was tall enough to reach the counter. The partnership lasted until Michael's death in 2001.
Over the decades, the store has been a site of reunion for other Baghdad emigrants, a place to rediscover old friends and the lost tastes of home, the unique, gummy richness of Arab ice cream.